Lemonade Tango (Issues 1,2,3)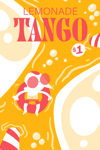 Issue 1
Rick is a romantic. He loves wine, classical music, and of course, Paris. The only problem? His girlfriend Martha is busy building the tower of Babel for the impending alien invasion. This is just a taste of the thought-provoking, mind bending, tear jerking stories you'll find in Henry Uhrik's LEMONADE TANGO, a comics publication. Follow Zender the chef-bot chase his impossible-love, just in time for the Thanksgiving season! Learn an important lesson about smoking. Read all these stories and more in this TWO-COLOR, 24 (plus cover) PAGE issue of LEMONADE TANGO.
Issue 2
America's favorite zany, alien chasing couple is back at it again! In this issue of LEMONADE TANGO, follow Rick and Martha as they build the tower of babel to welcome the incoming aliens to earth! Also in this issue is the story of an elderly-mahjong loving lady who finds herself involved with a rather nefarious individual. And just when you thought that was all the comic story you could handle, LEMONADE TANGO hits you with *TWO ADDITIONAL POSSIBLY AWARD WINNING* comics the whole family will love!
But shop fast! This offer won't be here forever!
Buy this TWO-COLOR, 32 PAGE issue of LEMONADE TANGO #2 now!
Issue 3
The day has come when we'll finally find out the truth about the aliens. Luckily, you've got a front row seat on the top of the tower of babel in the middle of the desert. The final chapter of "Bonjour Paris" is here, and you don't want to miss it! Also, a new story by Uhrik about three unlucky musicians who find themselves playing a solo concert in a big empty mansion. But, things aren't as they seem in "Out of Tune: Part One".